Dobson Museum- 1 block from Historic Route 66
Jordan Boyd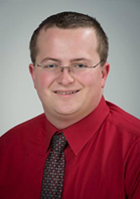 Welcome to the official website of the Dobson Museum and Ottawa County Historical Society. It is my great pleasure to welcome you to our facility. Whether you are a resident of Ottawa County or live elsewhere and plan to travel through our county I encourage you to stop by for a visit to the museum and a tour of the historic Dobson Home on A Street SW in Miami.

The Ottawa County Historical Society has been collecting over 50 years and continues making new acquisitions to our collection. History is happening around us all the time and we work to share and preserve the rich history of Ottawa County with our patrons. We invite you to stroll through the courtyards on a beautiful afternoon, tour the museum or home, or you may be interested in having your next club meeting or class reunion held at the museum or Dobson Home. We welcome you to contact us about scheduling your next event or group tour.

If I can be of any assistance to you, please contact me. I look forward to your visit to the museum, home, and our programs. We strive to preserve the county's history and sharing the early stories from early pioneers through the decades of county milestones and achievements which has left quite a mark on our corner of the state. The museum focuses on all aspects of the county's history including but not limited to Picher Mining Fields, Charles Banks Wilson's career and artwork, Mickey Mantle's childhood and career, Pioneer families, Route 66 making its way across the county, nine Native American tribes being headquartered in our county, B.F. Goodrich Tire Company having a plant here for forty years, and numerous artifacts which show the pastime of our county. We hope to see you in Miami soon!

Sincerely,

Director
Dobson Memorial Complex
Miami, Oklahoma

Director Contact Information:
110 A SW
Miami, OK 74354
P.O. Box 242
Miami, OK 74355
918-542-5388
jboyd@dobsonmuseum.com
Information & Pictures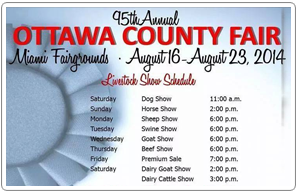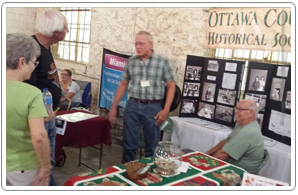 Thank you everyone who stopped by our Can You Identify History Photo Booth at the 95th Annual Ottawa County Free Fair. This was our 5th year of sharing old Ottawa County Fair Pictures with visitors to the fair!

We have quite a few unidentified photographs from the fair, go to our Fair Booth page and help us identify more people!

Also, take a look at our Can You Identify History page and help us identify more people as we add new photos every Sunday!
Gift Shop
See what we have to offer, order by phone or email! Gift Shop!
Calendar
Upcoming Events
OCHS Board Meeting – 7pm
Commerce High School Class of 1965 50th Class Reunion at Dobson House - 1:30pm-4:30pm
Can You Identify History?
This weeks photo:


In the News
Jordan named First Director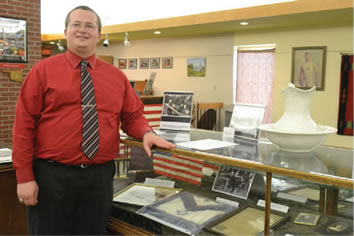 Posted: Thursday, June 25, 2015 4:54pm
Kimberly Barker kbarker@miaminewsrecord.com

MIAMI — Jordan Boyd, 24, was named the first official director of the Dobson Museum on June 15.

The Dobson Museum, also known as the Dobson Memorial Center, displays artifacts, exhibits and culture from Ottawa County. It is operated by the Ottawa County Historical Society with approximately 140 members and is located at 110 A Street SW Miami, Oklahoma.
Find us on Facebook!
Newletter SignUp
Subscribe to our monthly newletter